Nel mezzo del cammin di nostra vita
mi ritrovai per una selva oscura,
ché la diritta via era smarrita.
The journey into hell and out again to light is not for one person, but for all souls. It is the journey we must make to discover who we really are. Whilst creating The English Cantos, James has been overwhelmed not only by the incredible support for his effort, but also by the responses. Artists, poets, cinematographers, and novelists have all bent their efforts to unveiling a little more of the world depicted in The English Cantos. On this page you will find these wonderful contributions enshrined, along with links to the creators.
CONTENTS
The art of Mark Burden (art)
Satan's Soliloquay, by James A. Tweedie (poetry)
Amore e 'l cor gentil, translated by J. Simon Harris (poetry)
Dante's Tenzoni with Forese Donati, translated by J. Simon Harris (poetry)
The Literary Summa of Christian Civilization and its Music (article)
Two Poems by Anthony Watts: "Prelude" & "Under The Hammer" (poetry)
Dante's 700th Anniversary Exhibition (video)
"Shadows" by Sally Cook (poetry)
"Limerick on Dante's Inferno" by James A. Tweedie (poetry)
"Haven of Dante" by Leonardo Ramirez (artwork & novel)
Dante Ceramic by Angela Perrett (artwork)
The Dante Sculptor, Timothy Schmalz (artwork)
"Hell Arrives In Manchester" read by Andrew Benson Brown (video)
"Hell's Hole: An Unbidden Mercy" by Francis Etheredge (poetry)
"The Prayerful Kiss" by Francis Etheredge (poetry)
"Calligraphy Inspired by HellWard" by Judith Warbey (artwork)
"Illustration Divine Comedy" by George Cochrane (artwork)
"Blizzard Book" by Judith Warbey (artwork)
Extract from "Thomas Jefferson In Hell" by Andrew Benson Brown (poetry)
"Enter All The Wards" by Judith Warbey (artwork)
"Towards The Light" featuring artwork by Angela Perret (video, artwork)
"Three Faces" by Linda Sale (artwork)
"Diomedes Speaks" by Linda Sale (artwork)
"Wind and Vanity" by T. M. Moore (poetry)
"I Am Here And There" by Linda Sale (artwork)
"A Mortal Oath" by Joseph Sale & Michelle Sale (music)
Two Poems by James Sale (poetry)
Translations of Dante by David B. Gosselin (poetry)
Introducing artist Angela Perret (artwork)
Giotto & Dante by David Orme (essay)
Vita Nuova (translation) by J. Simon Harris (poetry)
Proserpina & Beatrice by Linda Sale (artwork)
The English Cantos, Canto 1, reading by Joseph Sale (video)
THE ART OF MARK BURDEN
Burden worked on Dante's Divine Comedy during COVID-19 lock-down and exhibited Word and Image at Bristol Artist Book Event 2022. James was writing a piece on Dante and mentioned Burden's images and video (Dante's Inferno, Mark Burden –YouTube). 
Intrigued by Sale's English Canto's, Burden started to work on a sequence of images related to HellWard and StairWell during 2021.  The images follow a strict process of development where each image evolves from an engagement with an individual canto  in sequence that is read and worked on without an understanding of the subsequent work.  
StairWell follows Sales fictional journey from darkness to light using the format of epic poetry and disciplined formalism of The Divine Comedy.  Sale, like Dante, shows rather than tells, and has an intensely visual aspect to his work, which is reflected in Burden's StairWell images and the work of Wider Circle Artists.
The inherent poetic form and structure of Dante and Sale's work leads the reader onwards and upwards towards enlightenment. Burden states, "It's highly interesting to work with a contemporary poet who has chosen the epic format for an audience to encounter a fictional  continuum from ignorance to enlightenment. I work as a hidden observer of the poet's heroic journey, and part of my engagement as artist is to see and record Sale's highly idiosyncratic and personal vision which he brings to life through his words. I hope the images complement the words and provide an indication of the breadth and depth of Sale's poetic achievement."
---
Mark Burden is an interdisciplinary artist who works in traditional and digital media, whose research  and practice is informed by the themes of surveillance, machines, the everyday and poetry. He studied Fine Art Central Saint Martins (MA) and University of Arts East Anglia (BA Hons).
Burden's work can be seen on his website: www.markb.space and surveillance observations on Instagram profile @markburden_art
SATANS'S SOLILOQUAY BY JAMES A. TWEEDIE
A Terza Rima based on Dante's Inferno
Take heed, O sinner. Mock me not nor scorn
The so-called flames of Hell, for 'tis not fire
That shall consume your soul, nor devil's horn
Adorn your once-fair brow, but self-desire
And shameless pride that will receive the curse
Of living death within the chilblained mire
Of my Inferno's fallen universe.
"Abandon hope, all you who enter here,"
Who cross the Styx on Charon's floating hearse
Where Death's embrace exacts a toll most dear,
And unpaid debt for wanton sin comes due.
Yet death is not the only fate to fear,
For living hopelessness is bitter, too.
To spend eternity and be resigned
To bear the heavy weight of things that you
Once coveted and what were once defined
By worldly minds as valued, well-won pleasure,
But now in lower circles are assigned
As punishment in place of greater treasure
That Saints and Martyrs have in turn received In
Paradise with joy beyond all measure.
While those whom I have tempted and deceived—
Whose souls have been corrupted to the core,
Who still embrace the lies they have believed—
Will suffer for my fall forevermore,
As I, with triune head, devour the three
Who each betrayed the love they'd had before.
With wings stretched forth in search of liberty
I beat the air in vain—bereft, forlorn—
And bind myself for all eternity.
---
James A. Tweedie is a retired pastor living in Long Beach, Washington. He has written and published six novels, one collection of short stories, and three collections of poetry including Mostly Sonnets, all with Dunecrest Press. His poems have been published nationally and internationally in The Lyric, Poetry Salzburg (Austria) Review, California Quarterly, Asses of Parnassus, Lighten Up Online, Better than Starbucks, Dwell Time, Light, Deronda Review, The Road Not Taken, Fevers of the Mind, Sparks of Calliope, Dancing Poetry, WestWard Quarterly, Society of Classical Poets, and The Chained Muse. He was honored with being chosen as the winner of the 2021 SCP International Poetry Competition.
DANTE'S AMORE E'L COR GENTIL
Translated by J. Simon Harris.
Love and the gentle heart are a single thing,
or so the sage has written in his art;
and one without the other is, it seems,
a rational soul without the reasoning part.
When nature loves, she makes them: castle and king—
Love as the lord and, as his home, the heart,
in which he lies asleep; and, deep in dreams,
his slumber's sometimes long, and sometimes short.

Beauty appears in a wise woman then,
so pleasing to the eyes that in the chest
the heart's desire for the pleasing thing is birthed;
and sometimes it endures so long in him,
the spirit of Love awakens from his rest.
A woman feels the same for a man of worth.
---
J. Simon Harris is the creator of Dante's Afterlife and a translator of Dante's Divine Comedy. He lives in Raleigh, North Carolina, with his wife Ashley, their son Luke, and their dogs Hallie and Lucy. In addition to literature and poetry, he loves science (and works as a scientist), videogames, movies, the outdoors, and—most of all—spending time with his family. He has translated poetry into English from Italian, Spanish, Ancient Greek, Old English, and Provencal. He is currently working on a translation of Dante's Vita Nuova, and a translation of Homer's Iliad in hexameter verse (and of course, he's eager to start work on Purgatory). Much of his work, including translations and original poetry, is showcased on his blog.
DANTE'S TENZONI WITH FORESE DONATI
Translated by J. Simon Harris
Forese Donati was a cousin of Dante's wife, and the brother of Corso Donati (the leader of the Black Guelphs, Dante's political adversaries in Florence). The Donati and Alighieri houses were very close to each other, and it's likely that Dante and Forese knew each other very well. Forese died in 1296; Dante meets him again in the Divine Comedy, on the terrace of the gluttons in Purgatory. From their interaction, it is clear that they were friends in life, though Dante seems to regret the crass nature of their friendship.
Below are the six tenzoni exchanged between Dante and Forese, probably sometime between 1293 and 1296. The tenzone is a special form of sonnet intended to insult a specific person (similar to a rap battle, or a roast). In this exchange, Dante and Forese go back and forth trading blows with each other, one sonnet at a time. The poems are full of vulgar insults, bawdy puns and innuendo, and coarse language. Some critics have wondered whether the tenzoni reflect a falling out or difficulty with their friendship; but to me, it's obvious that the poems are meant in good fun (vulgar as they are). But you can judge for yourself.
1-A: Dante to Forese

Whoever hears that luckless woman cough—
Bicci's, some call him Forese: his wife—
they'd say she must have felt the winter's frost
in some far country where there's always ice.
Mid-August finds her with a cold—you ought
to know, then, what the other months are like!
And yet what good is sleeping in her socks,
when the blanket doesn't cover up her thighs?

The cough, the cold, the other things she needs—
it's not her humors nor her age, but it's
a defect that she feels within the nest.
Her mother, who has had it worst, just weeps.
She always says: "Alas, but for dried figs
I could have put Count Guido in her bed!"


1-B: Forese to Dante

The other night, I had a cough in bed—
with nothing on my back, I'd caught a cold;
but right at daylight, I got up and strolled
outside, so I could earn a bit of bread,
wherever that was. Hear where fortune led:
I thought I'd find a box of pearls, or hold
some lovely florins minted in red gold,
but I found Alighier' among the dead,

bound by a knot whose name I didn't know,
whether Solomon's or another sage.
I signed the cross to the rising sun beyond me;
and then he said to me: "For the love of Dante,
untie me!" I could not see how; and so,
I turned around and went along my way.


2-A: Dante to Forese

You may well make your own Solomon's knot,
young Bicci, out of all that partridge breast;
still worse is all the mutton loin you've bought,
for the skin will take revenge upon the flesh:
if you don't give it up, you'll live a lot
closer to San Simone soon; and yet,
even if you get away from swigging shots,
it may still be too late to pay your debts.

But I've been told you know another skill,
which, if it's true, could make you whole again,
for it's a way to earn a lot of bread;
and, for a time, you might not fear the bills
you have, which would have put you in the pen—
but that did not save Stagno's sons from debt.


2-B: Forese to Dante

Go back and pay San Gal' before you tell
your little jokes about our poverty—
for they have had excessive sympathy
for you this winter, and for all your ilk.
And if you take us for such beggars still,
why do you beg us for our charity?
I know that you must get enough to eat,
for Altrafonte lets you have your fill.

But lest you end up at Belluzzo's door—
God save Tana and Francesco—if you're able,
you'd better get yourself some kind of work,
or hide in Pinti Hospital with the poor.
And I can see it now: you're at a table,
third in line—Alighier' without his shirt.


3-A: Dante to Forese

Young Bicci, son of whom I do not know
(Madonna Tessa does, but I won't ask),
you've stuffed your gullet with so many snacks
that now you're mugging people for the dough.
And everybody watches when he's close,
whoever has a purse slung on his back,
saying: "This one with the face that has a crack
is just a common thief—look how he goes."

And someone lies in bed worried all night,
afraid he might get caught for robbing houses,
who is to him as Joseph was to Christ.
Of Bicci and his brothers, I'll pronounce this:
that, by their blood, ill-gotten gains aside,
they know to be good brothers to their spouses.


3-B: Forese to Dante

You're Alighieri's son, that much I know:
I saw it in the way that you avenged—
and what a fine and fair and clean revenge—
the eagles he exchanged some time ago.
If you had hacked us into pieces, though,
I wouldn't be so rushed to make amends;
but you put so much in your bonnet then,
that two good pack mules wouldn't bear the load.

You've given us a noble precedent,
that anyone who shakes a stick at you
will have you as a brother and a friend.
And I could name the names of people, too,
who've counted on it; but bring me a pinch
of bread, so you and I can see this through.
---
J. Simon Harris is the creator of Dante's Afterlife and a translator of Dante's Divine Comedy. He lives in Raleigh, North Carolina, with his wife Ashley, their son Luke, and their dogs Hallie and Lucy. In addition to literature and poetry, he loves science (and works as a scientist), videogames, movies, the outdoors, and—most of all—spending time with his family. He has translated poetry into English from Italian, Spanish, Ancient Greek, Old English, and Provencal. He is currently working on a translation of Dante's Vita Nuova, and a translation of Homer's Iliad in hexameter verse (and of course, he's eager to start work on Purgatory). Much of his work, including translations and original poetry, is showcased on his blog.
THE LITERARY SUMMA OF CHRISTIAN CIVILIZATION AND ITS MUSIC
This fascinating article on music inspired by the poetry of Dante Alighieri draws profound parallels with Christian and Catholic theology and the figure of Beatrice in the Divine Comedy. You can find out more by following the link to the original article: https://onepeterfive.com/literary-summa-music/
"These Dante verses, so well intoned by the great Italian musician, present the truth of Mary's intercession."

Massimo Scapin
Massimo Scapin, an Italian conductor of both opera and the symphonic repertoire, composer, and pianist, holds degrees in piano and choral conducting from the State Conservatory of Music in Perugia, in orchestral conducting and composition from the National College of Music in London, and in religious science (magna cum laude) from the Pontifical Lateran University. Massimo appeared as guest conductor and pianist in Europe, Japan, Kazakhstan, Korea, and the United States. He was also a Vatican Radio commentator and entertainer. He currently serves as Director of Liturgical Music at St. John Cantius Church in Chicago.
TWO POEMS BY ANTHONY WATTS: "PRELUDE" AND "UNDER THE HAMMER"
Under the Hammer
Scene 1.

Listen to the rabble rave
As the nails are hammered home:
See the man who came to save
Hanging on the cross of Rome.


Scene 2.

Listen to the bidding soar;                                    
Watch the hammer rise and fall:
See the man who loved the poor
Hanging from the rich man's wall.
[Salvator Mundi, the 500 year old, long-lost Leonardo da Vinci painting of Jesus Christ, was sold at Christie's in New York for $450.3m. It was the highest auction price for any work of art and 'brought cheers and applause' at the packed Christie's auction room.]
Prelude
I woke up on a foreign shore,
Opened my eyes and the world flocked in.
My heart was pasture to the lamb,
The sky my taut and trembling skin.

Someone took me by the hand
And dressed me in a little suit,
Said that it would come to fit
And mark me out as man, not brute.

Indifferent to both brute and man,
I spurned their harmless little sham,
Ran to the woods, the hills, the stars,
Said, What these are is what I am.

I met a girl upon the shore.
Deaf to the world and its alarms,
I took her where the breakers roar.
She turned to sea-spray in my arms.

A city flashed its eyes at me.
I fell into its dark embrace
But found no love on any street –
Only my own reflected face.

With restless seeking after truth
I sealed an everlasting pact.
A book fell open at my feet –
Earth's indecipherable tract.
Anthony Watts has been writing 'seriously' for about 50 years. He has won 26 First Prizes in poetry competitions and was longlisted for the National Poetry Competition 2014. His poems have appeared in many magazines and anthologies, including A New Ulster, Acumen, Aesthetica Annual, Bananas, Cyphers, Envoi, Erbacce, Frogmore Papers, Ginosko Literary Journal, Impspired, Iron, Magma, Orbis, Poetry Salzburg Review, The Rialto and Riggwelter. His fifth collection, 'Stiles', is published by Paekakariki Press. His home is in rural Somerset and his main interests are poetry, music, walking and binge thinking – activities which he finds can be happily combined.
DANTE 700TH ANNIVERSARY EXHIBITION
SHADOWS, A POEM BY SALLY COOK
There is a shadow traced around the space
Which you once occupied within my mind.
A vacuum now exists there, yet; a trace
Of words and gestures lingers, to remind
That shadows made by your dark, clouded past
Upon my walk and open door; my face,
Are more substantial than the ones you cast
Upon my heart. I mark the time in place

And live without the full, complete embrace
That proved to be a hollow, empty rind,
The garbage of a gutted orange. The grace
I thought gave substance to another time
Turned to foul smoke, dim mirrors, rope; a blast
Of rarest spice turned stale. We're done, at last.
A former Wilbur Fellow and six-time Pushcart nominee, Sally Cook is a regular contributor to National Review, and has appeared in venues as varied as Chronicles, Lighten Up On Line, and TRINACRIA. Also a painter, her present works in the style known as Magic Realism are represented in national collections such as the N.S.D.A.R. Museum in Washington, D.C. and The Burchfield-Penney, Buffalo, NY. She was recently showcased in the Burchfield-Penney Museum exhibit "In The Fullness Of Time" which covered 150 years of Art in Buffalo and western NY state. She was one of a handful who had two items in the Exhibit and is one of six living artists represented. A popular virtual tour of her retrospective at the State University of New York at Buffalo ART GALLERIES may be found at The Society Of Classical Poets website.
LIMERICK ON DANTE'S INFERNO BY JAMES A. TWEEDIE
James A. Tweedie was challenged to write limericks inspired by famous poems. He chose Dante's Inferno. This is a more fascinating choice on a number of levels, and there is perhaps more behind it than one might think. One might initially feel that the Inferno is a difficult thing to create a limerick about, given its serious subject matter, but Dante's complete work is, of course, The Divine Comedy, so perhaps a limerick is not so out of place after all! Tweedie has added a funny and paradoxical twist by referencing James Sale's HellWard, which was inspired by Dante's work in his limerick.
A poet named Dante attended
A Hell-tour James Sale recommended.
Abandoning hope
He slid down the slope
And wrote it all down when it ended.
---
James A. Tweedie is a retired pastor living in Long Beach, Washington. He has written and published six novels, one collection of short stories, and three collections of poetry including Mostly Sonnets, all with Dunecrest Press. His poems have been published nationally and internationally in The Lyric, Poetry Salzburg (Austria) Review, California Quarterly, Asses of Parnassus, Lighten Up Online, Better than Starbucks, WestWard Quarterly, Society of Classical Poets, and The Chained Muse.
HAVEN OF DANTE BY LEONARDO RAMIREZ
Author Leonardo Ramirez has adapted Dante for the modern age with his novel and graphic novel Haven of Dante. Ramirez creates a lineage for Dante Alighieri which stretches into the modern day with our heroine Haven Irena Dante. Set against the Dante line is the Aristocracy, an order of demons ruling in Hell that seek to build their infernal kingdom on Earth. Only Haven can stop them, transformed by trauma and harnessing the power of her ancestors.
You can also read an extract from this exciting novel here:
This was the day that all had changed for The Nine Circles of Hell. This was the day that in the bedlam that is Hades, the first agreement between the circles was reached. The Nine Circles would band together to combat the infestation that is man and bring about every imaginable evil upon the surface world until the humans would be no more. As with all goals, the leaders of each circle would delegate their plans to their underlings and the inevitable power struggle and internal strife would follow. This Uncivil War lasted 40 years and culminated in the appointments of lords for each of The Nine Circles of Hades.
The leaders came to be known as: Lord Limbus of the First Circle (lord of those in limbo), who transports human captives to the abyss); Lord Hedonis of the Second Circle (lord of those led by lust), whose very name wreaks of all things depraved; Lord Voratum of the Third Circle (lord of the gluttonous, whose insatiable hunger can only be quenched by the fears and dread of souls); Lord Hordran of the Fourth Circle (leading the hoarders and whose hunger for the torment of minds knows no bounds); Lord Vengus of the Fifth Circle (lord of the wrathful, who thrives on the defeat of all things good); Lord Retic of the Sixth Circle (who leads the heretics and whose aim is the distortion of the truth and the and the corruption of the hearts of good men); Lord Ravage of the Seventh Circle (who leads the violent), Lord Lock of the Eighth Circle, (leader of the sorcerers) and Lord Traiton of the Ninth Circle, (whom traitors follow).
Upon consensus, The Nine Circles named themselves as they are seen in their own nefarious eyes.
The Aristocracy.
They were to blame for every evil known since the time that a man walked through their realm and left with his pure soul unmarred. Through the years, evil increased upon the surface world and it became necessary for all that is good to intervene. At the appointed time, a stranger among men only known as "The Witness" made direct contact with the family line that had stood bold and strong in the face of pure evil, the Dantes.
In this encounter, The Witness charged the first of the line to stand against the Aristocracy's plans for the surface world, but upon his failure, and the passage of many years, another rose in his place. His name was Benjamin Esteban Dante, who sought amnesty in the New World from England and fought bravely on the side of what was to become the nation of freedom known as the United States of America. He would later be succeeded by Kristen Cameron Dante who, being fluent in German, was sent to Germany as an intelligence officer. Kristen worked as an archivist for the Nazi Party during World War II. Under this guise, she used underground tunnels to free prisoners of the Nazis; with the help of her friend David, whom she later married. Together they returned to the United States.
Amado Ayende Dante worked as a liaison officer in the United States Embassy in what was once the Soviet Union. After living there for 10 years, he returned to the United States once the Berlin Wall crumbled. Rebecca Mariana Dante was seventeen and full of life. Regrettably, she was lost in the terrorist attacks on the World Trade Center. Each was chosen for their time in accordance to the goals of the Aristocracy in that era and given tools in accordance to their needs and strengths, be it enhanced cunning, superior intelligence, or super-human strength.
Only one was given the task according to her weaknesses.
From the novel, HAVEN OF DANTE by Leonardo Ramirez ©2021 Leonardo Ramirez
DANTE CERAMIC BY ANGELA PERRETT
Artist Angela Perrett has been continuing with her experiments inspired by both Dante and HellWard – draping clay over cardboard tubes to achieve the feeling of flow/movement and then using different mark making techniques; wax resist and layered glazes in order to create evocative pieces that seem to contain hell within them. They almost evoke a geology of the Nine Circles!
THE DANTE SCULPTOR
Sculptor Timothy Schmalz has undertaken an expansive project to celebrate Dante in his 700th anniversary year: The Dante Garden. It is the first sculptural interpretation of Dante's complete work ever created.

A life-size portrait of Dante writing the first canto marks the beginning of the journey through the sculpture garden.
From there, the viewer will be able to journey through Dante's Inferno, Purgatory, and Paradise in a three-dimensional space, experiencing Timothy Schmalz's beautiful and potent renditions of scenes from the Divine Comedy.
The sculptor has rendered an image from each canto of the Divine Comedy, and his style is reminiscent of the devastating and energetic powers of Dore; one can feel the tempests, both physical an emotional, as the lovers, Paulo and Francesca, are swept in the hurricane of their own passion (Canto 5). The three-dimensional aesthetic of sculpture also allows Schmalz to create a sense of depth – looking into the distance and seeing the true enormity of Hell's expanse (Canto 4). Dante described Hell; Dore envisioned it; and now Schmalz is making it with his hands!
For more information about this incredible project, please visit www.dantesculpture.com.
Timothy Schmalz is a world renowned artist. In 2013 he created the "Homeless Jesus"; numerous editions of this work have been installed in some of the most historically significant Christian sites in the world, including the entrance to Capernaum on the Sea of Galilee and the Vatican. In 2019. his epic sculpture "Angels Unawares" was installed in Saint Peter's Square. Pope Francis stated that he installed the 20 foot bronze sculpture in the center of the Catholic world for it to become a reminder of the Evangelical challenge of hospitality.
"HELL ARRIVES IN MANCHESTER" READ BY ANDREW BENSON BROWN
The hilarious Andrew Benson Brown, a foremost writer of mock-epic classical poetry, brings boundless energy and verve to a reading of "Hell Arrives In Manchester", a poem from James Sale's new collection Not Lost. He also shares with us the importance of developing a unique "poetic pose" and the dangers of becoming a slouch, which could lead to one inadvertently turning into a Beat Poet – a fate worse than death.
HELL'S HOLE: AN UNBIDDEN MERCY
I do not remember when, exactly, this happened or the circumstances of my life at the time; but of this, I am sure, that it is a part of the Lord's mercy to warn us, from time to time, of the eternal significance of our actions. This prayer, then, arises out of one of the moments when, in a particularly vivid way, there arose an almost physical smell of despair – as if there was a place from which nothing escapes except the warning of its existence.
Whether, then, hell is an existential place, a place that exists or whether, in this instance, this was a grim glimpse of the full implications of my unforgiving heart and where, left unchanged, it would be forever chained to what it was – in one sense is irrelevant in that if hell is expressed as an irrevocable outcome of being unwilling to love, indeed to love my enemy (cf. Lk 6: 27-38), then it follows that hell will exist in being eternally expressed in me and, therefore, in being the "place" of all who will not escape the unforgivingness that can rise up or even "dwell in us".
However, being the kind of person I am, I was slow to appreciate the "gift" of this intimation of the reality of hopelessness. Indeed, it is almost as if, like the ancient Egyptians thought, the soul that was too heavy to rise sank – not because it was held down, put down or otherwise detained, as it were, but because the very nature of hopelessness is a kind of burying burdensomeness which, of itself, buries the very good of life itself and the many gifts of God given that it may bear abundant fruit (cf. Jn 10: 10).
There comes a point, then, in a person's life when, in the words of Scripture, God says: "What more could I have done for you?" (Is 5: 4). In other words, in front of God there will come a moment when I will see all that He has done to give me life and to bring me to salvation and, what is more, I will see all the help that I have resisted and, if I have, all the good I have done in cooperation with Him (cf. Jn 15: 5). In a word, then, I will not be able to hide behind resentment, injustice, complaints of any kind – but I will be bare of all excuses before the piercing glance of Love who has loved me!
-Francis Etheredge
HELL'S HOLE
Lord, for a moment, I stood alone amidst the odour of despair,
A glimpse I did not choose nor would entertain the thought of,
But, as if paring, parting, even disclosing the heart's going down,
Down, not to arise, burdened, soaked and inescapably sodden,
Sinking, stinking, slowly down, is where you showed me I was 
Going, if not already gone, going down to be with the unwilling
To be unburdened (cf. Mt 11: 28-30), unforgivingness unburnt off, 
Like a burden burning to be shed but unsheddable, unwillingness 
Making it claustrophobically clinging, odourously rising, 
Unrelentingly present, unrelievedly expressing what I chose in 
Choosing un-loving: the inversion of the very heart of man.

Lord, for a moment, a hell-hole opened in my presence as if time 
Was timed eternally, not in passing, briefly, as with this passing
Opening, but opening upon the horizon of what made hope 
Hopeless: the impossible to describe endlessness of an undoable 
Choice unable to be undone and doing, endlessly, what it did: 
Ending the possibility of a cleansing change: a relief that belongs to
Restoring health after an interminable illness only there is only
The interminable illness: the denaturing imperfectability of being 
Imprisoned in imperfections impossible to pass from, like an 
Unshakeable smell, an interior collapsing of collapsed hoping: an
Incalculable uncountably interminably ever only present nowness.

Lord, for a moment, I saw the possibility of a transparent perception 
Of my own heart's hearkening to itself and hugging a dreadful 
Indwellingness which, unpeeled, bit upon blooms beyond telling a
Happiness unreachable, unlovingness unquenchable, mercy refused 
A refuse remaining, a shrivelling intimation of the swelling of what 
Could have been grown to the full and full to burgeoning, breaking 
Upon a gratitude eternally opening, ever freshly bursting, rising and
Never dying, rejoicing untiringly, telling and telling out again and 
Again the glory to be given to God if only – if only loving had been 
Opened, little by little, loving by loving, day by day eternally being
The beginning promised and still promised if today I listen (cf. Ps 95).

From a work-in-progress: Within Reach of You: A Book of Prose and Prayers by Francis Etheredge and enriched with a variety of other people's prayers.
THE PRAYERFUL KISS
These poems, beginning with "A Prayerful Kiss", are about that pilgrimage from loneliness to connectedness. Indeed, the first poem is about that law of attraction that runs throughout the universe becoming personalized in men and women. How can a kiss not be a prayerful activity if it is indeed the giving of love: a gentle giving that does not steal what is not being given? Did the Creator of the whole universe write the kiss upon the lips of lovers to show and to shower the world in "moments" bursting into flower – telling transparently that the existence of the kiss is a "sign" that we are "beings-for-love"?! Can a mechanistic, functional account of the kiss tell us about the root involvement of our whole being in the "momentary" passing of touches too touching to stay still; and, like the passing of a current with that dynamic that belongs to love, leading us more deeply into an openly generous embrace?
So what can claim to be a science that does not do justice to the reality of physicality, physiology, psychology, philosophy and theology in a wholesome account of the mysterious existence of the almost scriptural concreteness of the person-expressing-body-language-of-lips?
-Francis Etheredge
THE PRAYERFUL KISS
How many particles wizz without a sound, whirl effortlessly,
bind and build structures impossible to describe, hidden,
multiplying a multiplicity of shapes and sizes,
attracting and repelling, stable and changing,
emerging, in time, visibly magnificent?

Particles, partnered in tension, like static, 
building in the atmosphere,
striking in a lightening, leaping between earth's arising, wavering tendrils,

and the massing in the air, tingeing mauve, almost smouldering colours but too pale, electric, arcing between poles, closing the circuit and running so swiftly fast

to translate into

power, movement, energy, heat, light and a billion trillion artistic touches
in a brilliantly dancing display of coloured shapes and shaping colours.

Deep within the depths of all our wondering, arising between plants and animals,
between insects and flowers, species of all kinds,

like from like, linked through

a common bonding, sparkling with light, 
like sparklers in the night, 
passing likeness through difference, 
like match and tinder: 


young springing from old 

– new passing through generations leaving their trace and trailing away, almost ebbing away,
quietly, noiselessly, fading away, then still, 
slipping, imperceptibly, into the ground.

What in us comes together if not a universal attraction,
transformed and personalised: speaking; fruitfully suffering; and enduringly changing through a Word rebounding in us from the beginning and begging us to believe in being poured out in a poverty that hopes against hope for help.

Wholly unlikely, I know, to believe in the prayerful kiss –
as if the Creator could have created the splendour of the 
sky's dawning,
myriad awakenings, and the sweet, barely on the air scents of flowers,

without disclosing in a million traces, the free gift of an abundant giving,

a beautiful singing,
of Love being the beginning.
"The Prayerful Kiss" from the collection by the same name, published by En Route Books and Media, 2019: https://enroutebooksandmedia.com/theprayerfulkiss/.
CALLIGRAPHY INSPIRED BY HELLWARD, BY JUDITH WARBEY
These pieces are works in progress and form part of their own set. They respond directly to the poetry, are contemporary in style, but also tap into the very appropriate art form of calligraphy. Judith uses the shapes of the words themselves to also mimic and augment the meaning of the poetic language. Her calligraphic emblems have an almost runic quality. Perhaps she has unlocked the language of Hell?
ILLUSTRATED DIVINE COMEDY BY GEORGE COCHRANE
Contemporary artist George Cochrane has undertaken a monumental challenge: to exquisitely letter and illustrate every page of Dante's Divine Comedy, completely by hand! Whilst the Divine Comedy is widely regarded as one of the greatest works of literature ever-penned, it is formidable, and can put off even voracious readers. Being a passionate lover of Dante's work, artist George Cochrane has made it his mission to give the world a more accessible Divine Comedy, by creating a unique and dazzling illustrated version of it.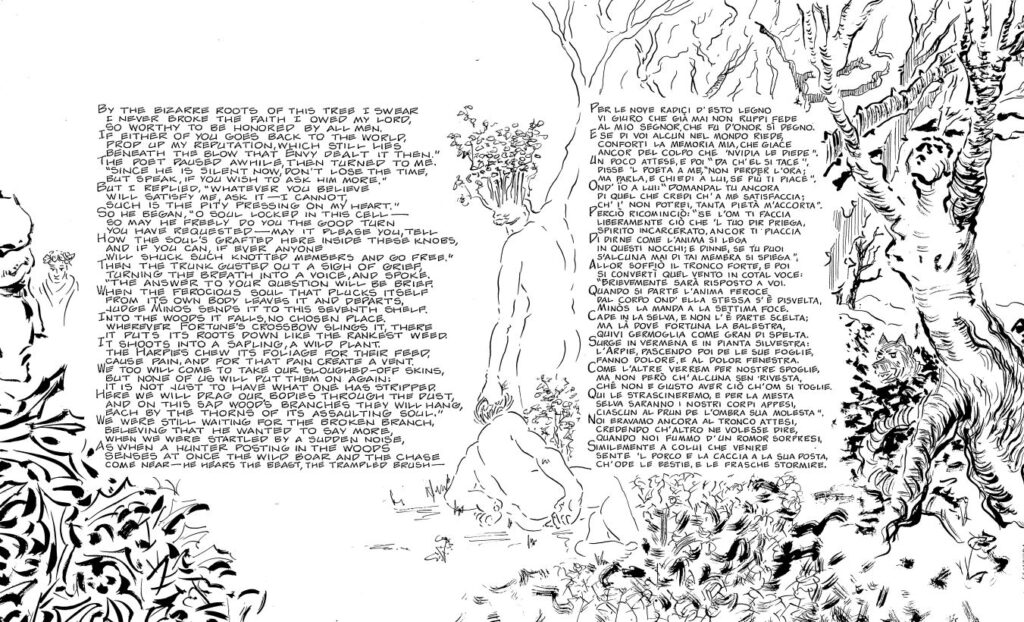 Cochrane, George. "A 21st-Century Illuminated Manuscript and the Artistic Tradition of Dante's Inferno." Digital Dante. New York, NY: Columbia University Libraries, 2019. http://digitaldante.columbia.edu/image/cochrane-illustrations/
However, this is not simply an "illustrated" version of the Divine Comedy. George Cochrane has also finely lettered every page, learning Italian in order to understand the original text. His art-style is an intriguing synthesis of the past 700 years of art inspired by Dante's masterpiece, drawing on Michelangelo, Botticelli, Doré, Koch, Blake, Manfredini, Holm, and Zatta. We love the way that the art flows around the text, and the energy and exuberance imbued in the characters and scenes Cochrane portrays, particularly his gift for bringing some of the subtler comedic elements of the Divine Comedy (after all, it is in the name!) to life.

You can read a fascinating introduction to the project, with insight into the artist's influences and processes, here.
BLIZZARD BOOK
by Judith Warbey
The Blizzard Book, in its simplest form, is made out of one piece of paper which is folded in such a way that, from the spine side, it looks like it's a multiple signature book. The inside is a series of pages, each of which have a pocket. Nothing but the folds holds this book together.
Judith Warbey has created an incredible Blizzard Book using passages, words, and phrases from HellWard. Due to the way that the Blizzard Book unfolds, it almost resembles a wheel with blackened spokes, which seems to echo Dante's circles of hell.
EXTRACT FROM "THOMAS JEFFERSON IN HELL"
by Andrew Benson Brown
COMMENTARY: Here, Andrew Benson Brown also riffs on Dante by exploring the descent of the Founding Father and third American President, Thomas Jefferson, into Dante's hell. He cleverly evokes the epic scenes of Dante's nine circles, whilst also juxtaposing it with comedic imagery and bathos, such as Jefferson stood "in his pajamas" at the shores of Styx.
On July Fourth of Eighteen Twenty-Six,
Old Thomas Jefferson was sent to Hell
In his pajamas. At the river Styx
He idled, slippers soggy from the swell
Of wrathful souls abounding in the slime
Whereon Phlegyas rowed, traversing waves
To ferry worldlings taken in their prime.
Tom had been bad—he didn't free his slaves.
Where three-fifths persons should be whole unchained,
A mob of creditors can make intent constrained.
The fire and brimstone dappled yellow, red,
And orange around him, wafting like the leaves
In autumn, crumbling embers flames had shed
To blow into Tom's face and singe his sleeves,
An underworld of Indian summer.
Some voices in the water whispered sighs
And shameful secrets to the newcomer,
Like soft wind from a hurricane's calm eye;
Still others shrieked like flapping birds in pitch,
Or screeching sirens that no longer can bewitch.
Dead Thomas waited on the riverbank
Amidst a crowd of criminals and whores.
This had to be a nightmare, or a prank.
Why was he not upon that whiter shore?
While pondering his soul's collected dross,
The boatman docked and beckoned them to board.
One sullen shade affirmed he would not cross;
Phlegyas marked his tears, and threw him toward
Those brooding in the marsh, who pulled him down.
Tom, horrified, decided it best not to drown.
But stepping forward on the boat to join
The rest, his further progress was declined.
"You can't get on unless you pay a coin,"
He heard a voice advising from behind.
Tom turned his head to view a crimson robe
Topped by a bearded, dark-complexioned scowl
With candid melancholy eyes that probed
Tom's soul, and nose perched like a hunting fowl.
He eyed the figure without commentary.
It was quite obviously Dante Alighieri…
To read more of this witty and evocative poem, please go to The Society of Classical Poets. This extract is from Chapter II of "The American Revolution: A Epic Poem". Chapter I can be found here.
ENTER ALL THE WARDS
See the latest work from calligraphy artist Judith Warbey, along with some answers to some questions we had about her creative process.
Q1. Art and literature have been intertwined since time immemorial. What particularly attracted you to producing work inspired by The English Cantos and how does it fit with your usual style and creative output?
I was intrigued by the idea of responding to a modern interpretation of the classic produced by Dante, which had such an influence on artists from his day onwards. I needed to understand what Dante's world was like, particularly the religious art he might be familiar with. I do work by responding to subjects and written words, particularly using the framework of artists' books. This seemed to be in tune with my usual practice. I like the immersive aspect, where my response takes time to emerge – I particularly appreciate the importance of rhythm and words, both essential elements in calligraphy.
Q2. The journey James Sale describes, and the influences of Dante, are in some ways quite bleak, though there is an uplifting current beneath the darkness. How do you find engaging with these darker themes?
Not just bleak – visceral. The timing of the work is unfortunate with "lock down" and Covid, but perhaps that just enhances the darker responses. Moments of uplift are there, but the over-arching feeling of gloom does pervade the journey into and through Hell. I am desperate for a river, due to being captivated by the Mappa Mundi, which I believe will make a really good vehicle for one of my responses, and the divisions in that map are indicated by seas and rivers (water). It has been really difficult to engage with the anger, but once I found a way of markmaking that reflected this, I was able to distance myself from that anger and work objectively.
TOWARDS THE LIGHT
Artist Angela Perrett explores Dante and the English Cantos written by poet James Sale. This video gives a brief insight into her creative process collecting photographs, sketches and notes that lead to final pieces in fused glass.
THREE FACES
In this triptych, "Three Faces", we see three variations on a theme. The artist Linda Sale beautifully explores contrasts here: between dark & light; life & death; health & decay; this world and the next; and everything in between. The illustrative elements remind one of the dark horror art-style of Junji Ito, whereas the gold creates the impression of a religious icon. It is almost as if these icons have been corrupted by cosmic forces outside of their control. The stars literally invade the image, turning the purity of the gold dark (or perhaps draining it of colour?), and giving over to a more chaotic and powerful force that is still, in some sense, religious. Fascinating work that stimulates the imagination and lies just on the edge of unsettling and awe-inspiring.
---
DIOMEDES SPEAKS
For 700 years or more Diomedes has endured silently in the flames of Dante's hell for his crimes, whilst his partner in fraud, Odysseus, has been allowed to tell his story. Now, and at last, through the artist Linda E. Sale, the indomitable Diomedes, Greek Hero of the Trojan War, speaks through the flames to tell us his message for today. Diomedes defied the gods on the battlefield of Troy, daring to strike Ares, the god of war, himself. So, though afflicted, even in hell, Diomedes remains characteristically unbowed.
-James Sale
---
WIND AND VANITY
Intro to Wind and Vanity. Below, we have a phenomenal rendition by T. M. Moore of arguably the bleakest book in the Bible, Ecclesiastes. He has transformed the original text into terza rima, the same 3-line stanza form used by Dante to write The Divine Comedy. The terza rima propels the pace of the narrative, whilst also linking certain lines to provide a complex webwork of meaning. For example: the "earth abides" is linked to "returning like the tides", reinforcing the natural life-and-death cycle of the planet and all living things. Read this fabulous poem here!
This poem first appeared on The Society of Classical Poets website.
---
Wind and Vanity
after Ecclesiastes 1
My name is Solomon, and you may know
me as the king of Israel, David's son,
a man of wisdom unsurpassed. And so
I was. And yet I write to you as one
emerging from some near-insanity
and folly. I have seen, beneath the sun –
where all is only matter, time, and free
will – that the best of man's intentions and
exertions are but pride and vanity.
What profit from his labors has a man
when all is said and done? What difference does
he make? What does he leave behind? How can
he hope to be remembered, though he was
intent on carving out a legacy?
The generations come and go, because
death comes to all; the hungry grave will be
our common fate. And yet, the earth abides.
The sun comes up each day perpetually;
and then it sets, returning like the tides,
to where it rises once again. The wind
blows to the south, then turns and harshly rides
up to the north. It travels without end
upon its moaning circuit. Likewise, all
the rivers flow down to the sea, and lend
their issue to its vast, dark depths. Withal,
the sea is never full; the rivers cease
not flowing, whether they be great or small,
but hasten to the sea again, release
their substance, and return. And what of man?
Do all his pondering and work increase
his understanding of this life? Or can
they show the meaning of existence? Do
they save us from this vanity we stand
in? Everything is full of labor. Who
can understand it? We can never see
enough, or hear enough, or ever do
enough to make sense of this life. Thus we
are never satisfied, and happiness
eludes us. What has been is what will be;
and what was done – though it confound, oppress,
deceive, or disappoint us – will be done
again, to our enjoyment or distress.
For there is nothing new beneath the sun,
within that wall constructed by the mind
of man apart from God. Can anyone
insist that anything is new? Or find
out something not already done or shown?
Since ancient times it has been there, behind
the veil of history, waiting to be known.
No one remembers former things; nor will
the future thank you for the seeds you've sown
beneath the sun. You may obsess until
you die about your legacy, but who
will care? Or who for you a tear will spill?
As king, and young, I knew not what to do
to rule my people well. And so I set
my heart to seek out matters wise and true,
to learn by wisdom all I could, and let
God's Word illuminate my way – to guide
my thinking and my plans. That is, I set
my mind to seek the truth of God, and side
with Him no matter what, to live under
the heavens, not the sun, and to abide
there in God's presence, filled with awe and wonder.
Indeed, this is a difficult affair.
But God has set us to it, lest we blunder
in all our folly, turn aside, and dare
the heavens to challenge our presumptive ways.
Now I have seen the works done everywhere
beneath the sun, the heights of pride, the maze
of self-deceit, and all the vanity
and lies by which men prosecute their days.
It is all folly. But we cannot see
the crooked path we walk, because it seems
straight to us. Straight, though, it will never be
while crookedness and lies define our schemes
and set our course. Beneath the sun, we feed
on wind, and all our fondest hopes and dreams
elude our grasp, and disappoint, and breed
despair and anger. What we lack, we can
not find; we fail to meet life's deepest need.
So I communed within my heart: "Can man
know wisdom, knowing folly? I have gained
much wisdom – knowledge, too – more wisdom than
all kings who in Jerusalem have reigned
before me. I have understood all learning!"
Along with this, then, I sought to be trained
in folly and in madness. There were, burning
in me, desires and lusts, which proved to be
my ruin, nearly. All the while, my yearning
to gain more wisdom grew. I came to see
that this was merely grasping for relief
from folly, groping vainly to be free.
For in much wisdom, there is much of grief.
With knowledge, sorrows break in like a thief.
T.M. Moore's poetry has appeared in numerous journals, and he has published five volumes of verse through his ministry's imprint, Waxed Tablet Publications. He is Principal of The Fellowship of Ailbe, he and his wife, Susie, reside in Essex Junction, VT. Fellowship: https://www.ailbe.org
---
I AM HERE AND THERE
Commentary: To me, these two images reflect two selves. The 'conscious self', which we project outward. And the deeper, darker, 'shadow self'. Intriguingly, the eyes of the conscious self are black, suggesting the concealed shadow within, whereas the eyes of the shadow self are gold, suggesting that they are looking into the light. The conscious self is connected with nature, the greenery encircling them, flowers or perhaps blossoms falling. The shadow self, however, is attached to more machine-like structures: wheels, grids, suggesting that it is from the darker id in the human imagination that we derive industry. The Divine Comedy principally centers on Dante and Virgil. One is a mentor and guide, and one a wandering and lost soul who must find his way to light. However, could they perhaps also represent two sides of a divided self? Virgil, the super-ego who knows the laws of heaven. And Dante, the id, who sympathises with those suffering in hell. -Joseph Sale
---
A MORTAL OATH
The above song was written by CactusRose, a musical collaboration between Joseph and Michelle Sale: "We wanted to re-imagine the story of Orpheus, descending into hell to save Eurydice. One of the magical details that makes the story come alive is that the King of Hell, Hades, sheds tears of molten tar at hearing Orpheus' song – for the first and only time in all of Greek mythology. What kind of plea could elicit such a reaction from the God of The Dead? We wanted to explore that. It chimes with Dante, too, who shows mercy and remorse even for the extraordinary sinners he meets." – JS, MS
---
TWO POEMS
---
TRANSLATING DANTE
We present a new installment of original Dante translations. To our knowledge, Dante's lyric poems have never been presented in a way which allows English readers to experience the full scope of Dante's poetic mastery – the "Canzone" form. The Canzone form served as the inspiration for such great poets as John Keats, notably with the "Great Odes." From Shakespeare's immortal sonnet series to Keats and Shelley's famous Odes, much of the greatest English poetry can be traced back to this Italian school led by Dante Alighieri. – David B. Gosselin
Amor che ne la mente mi ragiona
Love, who within my mind ever discourses,
de la mia donna disiosamente,
Sings of reasons why the lady I desire
move cose di lei meco sovente,
Moves my every thought and feeling to higher
che lo 'ntelletto sovr'esse disvia.
Lands, where my weak intellect now wanders.
Lo suo parlar sì dolcemente sona,
Each word seems to issue from heavenly sources,
che l'anima ch'ascolta e che lo sente
Such that whoever would hear her speak, like fire,
dice: "Oh me lassa! ch'io non son possente
Would feel themselves struck and say "None have power
di dir quel ch'odo de la donna mia!"
To tell what sights, what thoughts and what great wonders
E certo e' mi conven lasciare in pria,
Are found in her, who each earthly thought sunders,
s'io vo' trattar di quel ch'odo di lei,
And who leaves one wandering, longing to tell
ciò che lo mio intelletto non comprende;
Even the smallest part of what he's heard –
e di quel che s'intende
For which man has not a word,
gran parte, perché dirlo non savrei.
But which sounds with the force of a death knell.
Però, se le mie rime avran difetto
And thus, whatever shortcoming or defect
ch'entreran ne la loda di costei,
My verses may succumb to as they tell the tale
di ciò si biasmi il debole intelletto
Of my sweet lady, it is not her virtue derelict,
e 'l parlar nostro, che non ha valore
Nor any shortcomings of her above,
di ritrar tutto ciò che dice Amore.
But of those who wish mere words could capture Love.
Non vede il sol, che tutto 'l mondo gira,
The sun in all its worldly revolutions
cosa tanto gentil, quanto in quell'ora
Never shines on something so virtuous
che luce ne la parte ove dimora
As when its rays fall upon her, impervious
la donna di cui dire Amor mi face.
To mortal nature. When she casts love's shadow,
Ogni Intelletto di là su la mira,
All gaze upon her hoping for salvation.
e quella gente che qui s'innamora
For all those who encounter her numinous
ne' lor pensieri la truovano ancora,
Eyes, can't help but discover something wondrous –
quando Amor fa sentir de la sua pace.
A place which each true servant of Love hallows.
Suo esser tanto a Quei che lel dà piace,
Whoever walks within her shadow follows
che 'nfonde sempre in lei la sua vertute
A trail of virtue and delight unknown,
oltre 'l dimando di nostra natura.
Exceeding what man's mortal nature conceives.
La sua anima pura,
My lady's soul, which receives
che riceve da lui questa salute,
A saving immutable grace from the heavenly dome,
lo manifesta in quel ch'ella conduce:
Displays its power in each smallest gesture;
ché 'n sue bellezze son cose vedute
For such things are felt with each sweet tone
che li occhi di color dov'ella luce
That all who see or hear find early rapture:
ne mandan messi al cor pien di desiri,
Their hearts are flooded with desire from on high,
che prendon aire e diventan sospiri.
Which takes its flight in great wrenching sigh.
In lei discende la virtù divina
Upon her descends the same virtue divine
sì come face in angelo che 'l vede;
That graces the angels who fly to Earth.
e qual donna gentil questo non crede,
And to any woman who questions her worth,
vada con lei e miri li atti sui,
Follow each of her gentle arts and learn,
Quivi dov'ella parla si dichina
For whenever she utters that speech so fine,
un spirito da ciel, che reca fede
She inspires the souls of those who tread the Earth
come l'alto valor ch'ella possiede
To shun all the pestilence and worldly dearth,
è oltre quel che si conviene a nui.
In this proving she that has the power to spurn
Li atti soavi ch'ella mostra altrui
All baseness – such things her kind learns in heaven.
vanno chiamando Amor ciascuno a prova
Effortless are all her acts that he who sees
in quella voce che lo fa sentire.
Her move must then believe in grace divine;
Di costei si può dire:
Each gesture is a hallowed sign.
gentile è in donna ciò che in lei si trova,
So it's said, her eyes are deeper than the seas,
e bello è tanto quanto lei simiglia.
Virtuous all that which women with her share,
E puossi dir che 'l suo aspetto giova
And fair all that resembles her true beauty.
a consentir ciò che par maraviglia;
Thus no mortal can doubt her true duty,
onde la nostra fede è aiutata:
For in this our faith is ever raised
però fu tal da etterno ordinata.
From its low place, to that of eternal praise.
Cose appariscon ne lo suo aspetto
Appearing in her aspect is Paradise,
che mostran de' piacer di Paradiso,
Which makes itself and all its joys directly known;
dico ne li occhi e nel suo dolce riso,
That is, within those eyes I've seen it shone,
che le vi reca Amor com'a suo loco.
Left by Love, who chose them as his dwelling.
Elle soverchian lo nostro intelletto,
She seizes every thought like streams imprisoned in ice,
come raggio di sole un frale viso:
Or as the blinding sky where Helios keeps his throne,
e perch'io non le posso mirar fiso,
Passed earthly sights and over the horizon flown.
mi conven contentar di dirne poco.
And since every sight is met with blinding
Sua bieltà piove fiammelle di foco,
Light, I'm content to give a humble telling:
animate d'un spirito gentile
Forever burning like the sun or stars,
ch'è creatore d'ogni pensier bono;
Orbiting our minds like celestial cars;
e rompon come trono
With a thunderous quelling,
li 'nnati vizii che fanno altrui vile.
She shatters each vile thought. Those by her beauty shamed
Però qual donna sente sua bieltate
Let them find in such radiance compelling
biasmar per non parer queta e umile,
Proof of the humbleness, which can be gained,
miri costei ch'è essemplo d'umiltate!
By such ways which have force to tame each perverse
Thought, just as he who wrought the universe.
Questa è colei ch'umilia ogni perverso:
My song, you seem to contradict a sister
costei pensò chi mosse l'universo.
Of yours who speaks in such a different way.
Canzone, e' par che tu parli contraro
For while one says she speaks disdainfully, you say
al dir d'una sorella che tu hai;
She is humble, with an angel's grace.
che questa donna che tanto umil fai
Despite our fate, which the stars oft' temper,
ella la chiama fera e disdegnosa.
You know the sky is clear as day,
Tu sai che 'l ciel sempr'è lucente e chiaro,
Which never turns its back on us though sights betray
e quanto in sé, non si turba già mai;
Our confidence. Our mortal eyes can oft deface
ma li nostri occhi per cagioni assai
And seem to blur the heavens' hidden trace.
chiaman la stella talor tenebrosa.
But refrain from thinking such tainted truth,
Così, quand'ella la chiama orgogliosa,
Believing such things are as they seem;
non considera lei secondo il vero,
There's no need to helplessly scream
ma pur secondo quel ch'a lei parea:
Or let the fear, which swims within your soul be proof
ché l'anima temea,
Instead go seek her out and stay aloof,
e teme ancora, sì che mi par fero
So that you may – without hesitation – be true,
quantunqu'io veggio là 'v'ella mi senta.
Telling her "My lady, only this I pray:
Così ti scusa, se ti fa mestero;
Let me sing your praises through life's winding way."
e quando poi, a lei ti rappresenta:
dirsi: "Madonna, s'ello v'è a grato,
io parlerò di voi in ciascun lato".
Translation © David B. Gosselin
---
INTRODUCING ANGELA PERRETT
Introducing artist Angela Perrett.
Angela is one of three artists invited to create work for The English Cantos project.
I popped in to see Angela in her studio recently to chat about her thoughts and developing ideas on The English Cantos. Angela is a prolific artist – working in many different media including glass. She's been reading a translation of Dante's Inferno and also The English Cantos.
The themes that keep recurring to her are circles, journeys, movement and trios.
She is already thinking about pieces that encourage the viewer to look through multiple layers. Evoking emotion through colour and texture, movement from despair to bliss, from stagnant pollution to life-giving experience. She is fascinated by how the language itself flows and stops, adding to the expression of movement.
Watch this space for further developments!
-Linda Sale
---
GIOTTO & DANTE
Writer David Orme shows us an entirely different perspective on Dante, examining him through the lens of the artists that lived contemporaneous to him. From Giotto's austere portrait in 1321, to Nardo da Cione's elaborate decorations of the Strozzi Chapel in the 1350s, we see how Dante was depicted by those that may have known him by more than reputation. Intriguingly, we learn their depictions – Dante often being swept up to Paradise – frequently ran counter to the political standpoint on the poet; Dante was exiled from Florence in 1302, but it appears that the Florentines subsequently regretted their decision! Take a deep dive into the art-history surrounding the great poet on David's website!
---
VITA NUOVA (TRANSLATION)
A ciascun'alma presa e gentil core
To every captive soul and gentle heart
nel cui cospetto ven lo dir presente,
before whose sight the present words are brought,
in ciò che mi rescrivan suo parvente,
on which they may write back to me their thoughts,
salute in lor segnor, cioè Amore.
greetings in their lord, Love, I here impart.
Già eran quasi che atterzate l'ore
Of the time in which the stars are all aglimmer,
del tempo che onne stella n'è lucente,
almost a third of the hours passed from here,
quando m'apparve Amor subitamente,
when, suddenly before me, Love appeared,
cui essenza membrar mi dà orrore.
whose essence gives me horror to remember.
Allegro mi sembrava Amor tenendo
At first, Love seemed so joyful to me, keeping
meo core in mano, e ne le braccia avea
my heart within his hand, and in his arms
madonna involta in un drappo dormendo.
a woman wrapped inside a cloth and sleeping.
Poi la svegliava, e d'esto core ardendo
And then he woke her up, and humbly eating,
lei paventosa umilmente pascea:
fearful, she grazed upon that burning heart:
appresso gir lo ne vedea piangendo.
and next I saw him going off and weeping.
The first sonnet in Dante's Vita Nuova, presented in the original Italian with a translation by J. Simon Harris. Dante sent this poem to various poets including Guido Cavalcanti, who would later write a sonnet in response.
To see J. Simon Harris' translation of the first Canto of Dante's Inferno, visit the Society of Classical Poets.
---
PROSERPINA & BEATRICE
Proserpina was the Roman goddess of the Underworld. The mythology relating to the abduction of the daughter of the goddess Ceres was taken from Greek legend. Proserpina was abducted by Pluto whilst she was picking flowers.
James Sale: As always, the brilliance is in the small details. Proserpina was stolen from the land of the living, by her husband to be – Pluto or death – see how her head turns to glimpse one last time the receding exit of light. We cannot see the face of the Queen of death, but we can see the full, sensuous body that Pluto so desires. Behind we see the red, rawness of flowers or blood that will soon be diluted in the blue waters of the River Styx where all that is life is submerged and forgotten. What drama the artist visualises in this moment!
---
"Such was my prayer. And she, so far away, / Or so it seemed, looked down at me and smiled; / Then to Eternal Light she turned once more." Dante, Paradise, Canto 32, 91-93
Linda Sale: The inspiration for my series of paintings called 'Beatrice Turns Away' was inspired by James reading me these lines. He was deeply moved by them and a strong image came to my mind and I got to work immediately! Around the same time we decided to visit Ravenna and pay our respects at Dante's tomb. I was looking forward to the trip but was completely unprepared for the astonishing artwork we were to see there. The freshness of the mosaics within the forms of the basilicas literally took my breath away. When we returned I felt I needed to incorporate some of this into the painting I had started. One (the image on the far right) became the cover for James' latest poetry book Divine Comedies.
---
CANTO 1 READING